Janome Janome Accessories - Even Feed Foot - High Shank (200 309 008)
Product information

Even Feed Foot (High Shank)
Janome Even Feed Foot for Embroidery Machines - High Shank
The even feed foot, sometimes referred to as the walking foot, is designed with a set of feed dogs (teeth) which allow the fabric to feed without shifting and eliminates the problem of the under layer of fabric coming up short. The even feed foot is also great for topstitching which can be spoilt due to irregularity of stitching. This is often caused by the bulk created with the seam allowance especially around collars and reveres. Using the walking foot for topstitching will eliminate this problem and give perfect stitching every time. Also includes quilting guide.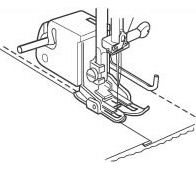 Fits Machines:
MC10000, MC10001, MC11000, MC11000SE, MC8000, MC9000, MC9500, MC9700
Click on the link below to learn how to use only.
(items maybe different to what is shown on the video)
Item code: 200-309-008
Note: Images used are for illustrative purposes only.