Janome Ex Demo - Janome MC15000 - Embroidery & Quilting Machine
Product information

MC15000 | Embroidery & Quilting Machine V1.01 (Upgraded to V2)
(iPad not included)
(Ex Demo Sold as is)
---
RRP $12,999
Doing larger and more thread-intensive embroidery in a single design layout. Importing and combining designs for a total stitch count of up to 200,000. Stitching out at up to 1000 stitches per minute. Connecting with my iPad® or PC wirelessly. All this with the quality Janome is famous for.
---
Features:

New easy needle threader/Design on a bigger, vivid touch screen/Five standard hoops/Design embroidery and stitches on your pc/2-3 letter monograms with 11 different fonts.

480 built-in designs, Including famous designer exclusives/Create design layouts with the AcuEdit App/Check embroidery progress with the AcuMonitor App. (iPad not included)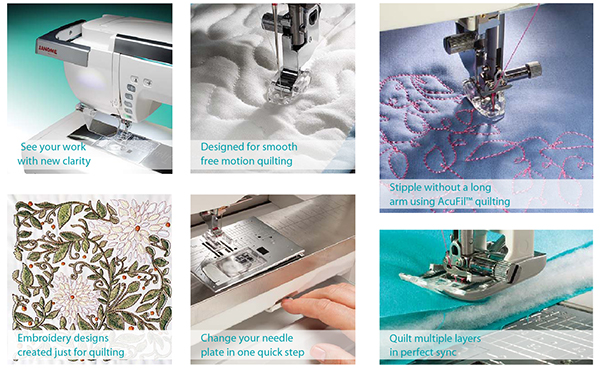 Designed for smooth free motion quilting/See your work with new clarity/Embroidery designs created just for quilting/Quilting multiple layers in perfect sync/Change your needle plate in one quick step/Stipple without a long arm using AcuFil quilting.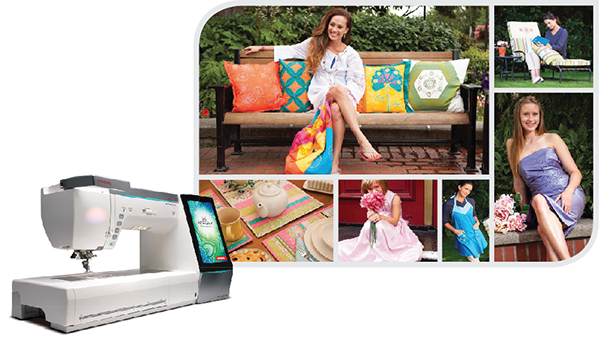 All the useful features that you need to make sewing easy and fun.
---
Standard Accessories:
Zigzag Foot A
Overedge Foot M
Satin Stitch Foot F
Blind Hemming Foot G
Zipper Foot E
Concealed Zipper Foot Z
Automatic Buttonhole Foot R
Stabilizer Plate for B/hole Ft
Rolled Hem Foot D
Open Toe Satin Stitch Foot F2
Darning Foot PD-H
Free Motion Quilting Closed-toe Foot QC
Free Motion Quilting Open-toe Foot QO
Free Motion Quilting Zigzag Foot QV
Button Sewing Foot T
1/4" Seam Foot O
Dual Feed Holder (twin)
Dual Feed Holder (single)
Dual Feed Foot AD (twin)
Dual Feed Foot VD (single)
Dual Feed Quilt Piecing Foot OD (twin)
Dual Feed Zipper Foot ED (single)
AcuFeed Open Toe Foot UD (twin)
Embroidery Foot P
Straight Stitch Needle Plate
5 x Bobbins
Needle Set
Additional Spool Pin
Spool Pin Felt
Screwdriver
Lint Brush
Seam Ripper
Quilting Guide Bar
Spool Holder (large)
Spool Holder (small)
Net
Spool Stand
Button Shank Plate
Scissors
Touch Panel Stylus
Cloth Guide
Bobbin Holder Cleaner
Embroidery Hoop SQ14 (with template)
Embroidery Hoop SQ23 (with template)
Embroidery Hoop GR (with template)
Embroidery Hoop ASQ22 (with template)
Embroidery Hoop FA10 (with template)
4 x Magnetic Clamps (for SQ23 and GR)
8 x Magnetic Clamps (for ASQ22)
Bobbin Holder for Embroidery
Felt Fabric
Sample Stabilizers
Bobbin Thread for Embroidery
Foot Control (with thread cutter switch)
Adjustable Knee Lifter
3 x Optic Magnifiers (20/40/60)
Power Cable
USB Cable
Instruction Book
Key Icon Reference Chart
Instructional Video DVD
Horizon Link Suite CD-ROM (with installation guide)
Semi-hard Fabric Machine Cover
Detachable Embroidery Unit in own case
Janome Branded Accessory Case
Custom Clear Extension Table
Note: Images used are for illustrative purposes only.
Available for you now.
---
Click on the brochure and video links below for more information.
---
Hobbysew Guarantee and Manufacturer's Warranty:

tr
@Htt
Please note: With high-end machines, please allow up to 10 working days for delivery. - See more at: http://www.hobbysew.com.au/machines/janome/janome-mc12000.aspx#sthash.XoXdm6Mz.dpuf