Bernina Bernina L 460 Overlocker
Product information

Bernina L 460 Overlocker
Bonus: Overlocker Mat RRP $24.95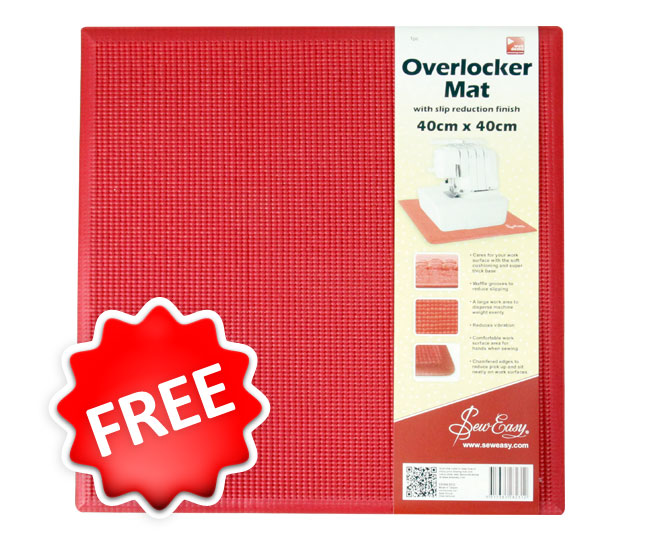 Free Dust Cover N4192.Teal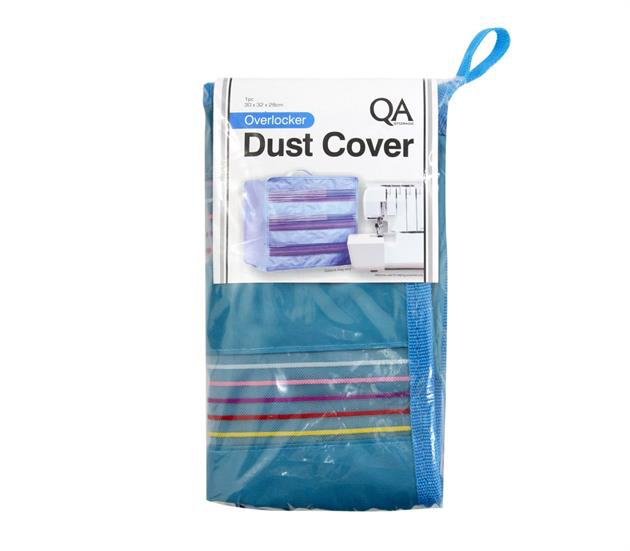 ---
The fast and flexible way to sew!
Outstanding speed control thanks to the BERNINA Foot
Control and DC motor which allows stitch by stitch sewing and a top speed of up to 1,500 stitches per minute. Professional seams and hems of highest stitch quality are produced in no time. The automatic needle stop up ensures the needles and loopers are always in the correct position.
---
BERNINA L460 Overlocker
This serger/overlocker offers great sewing comfort. It cuts, sews and finishes in one single step. The L 460 produces seams and hems of highest stitch quality, from fine rolled hems to wide decorative edges.
BERNINA L 460 – the fast and flexible serger/overlocker

Working with a serger/overlocker means saving time and stitching fast. Sewing projects take shape quickly and with little effort. Innovative features make BERNINA sergers/overlockers delightfully easy to use, ensuring professional quality down to the very last stitch. The overlocker is a must for a creative knitwear sewer.
Features and Functions of the BERNINA L 460

Stitch VariationsL 460
Total number of stitches16
4-thread overlock1
3-thread overlock (wide /narrow)2
3-thread super-stretch1
3-thread flatlock (wide /narrow) 2
3-thread narrow seam1
3-thread rolled hem1
3-thread picot stitch1
2-thread overlock (wide /narrow)2
2-thread flatlock (wide /narrow) 2
2-thread rolled hem1
2-thread wrapped overlock (wide/narrow)2

Comfort Features L 460

Manual Needle threader
Lower looper threader
Color-coded threading path
Lay-in threading system
Handwheel position indicator
Automatic needle stop up
Needle up / down with BERNINA foot control
Thread tension release when presser foot raised
Stitch-by-stitch sewing
Stitch length fine tuning for rolled hem
Adjustable stitch length while sewing
Adjustable differential feed while sewing
Accessories in looper cover
2 LED sewing lights
Safety switch activated when cover open or presser foot raised

Technical Specifications L 460

Micro Thread Control (mtc)
3 – 9 mm overlock seam width
Upper knife drive from below
2-step front presser foot lift
5-step presser foot pressure
Rolled hem lever built into stitch plate
MotorDC
Sewing speed, stitches per minute1, 5 0 0

Standard Accessories L 460

Standard overlock presser foot
BERNINA Free-Hand System (FHS)
Slide-on table
Upper looper converter
Cut-offs bin
Seam guide
Set of needles
Tools and accessories in a separate box
Dust cover

10 reasons to buy an overlocker

Cut, sew and finish in one step
Quick, professional and durable finish
Perfect for stretchy and woven fabrics
Excellent rolled hemming
Flat and even seams and hems with differential feed
Ruffles and gathers automatically with differential feed
Vast applications with decorative threads
Speedy patchwork piecing for quilting
---
Ultimate Comfort
The well-lit grand workspace of this overlocker eases sewing as well as threading of loopers and needles. Thanks to the Free-Hand System (FHS) that raises and lowers the presser foot both hands are free for sewing and placing the fabric. The slide-on table expands the work space to support larger sewing projects.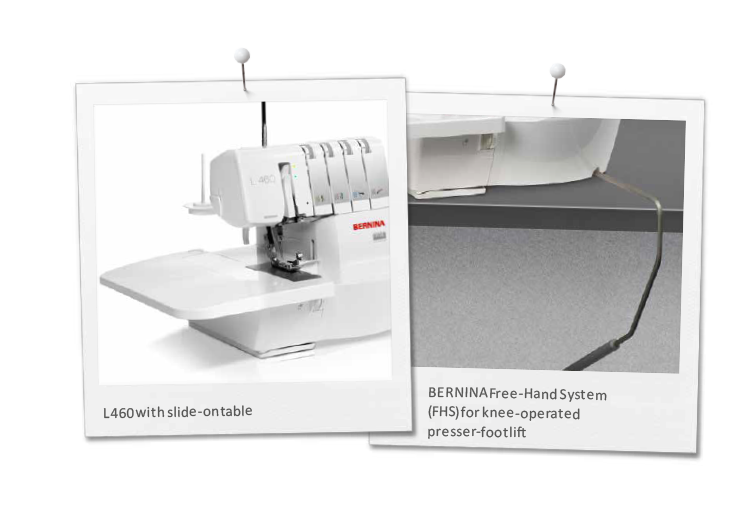 Ease of Use
With the patented Micro Thread Control (mtc) the over-edge thread amount can be adjusted exactly and easily. Any settings are adjustable while sewing, including the cutting width from 3 to 9 mm and the stitch length from 0.8 to 4 mm. Effortlessly change the differential feed to ensure wave-free seams in knits and no puckering in fine fabrics. A manual needle threader allows for easy and ergonomic threading. The colour coded threading paths as well as the lower looper threader support your quick threading.
Accessories
The most commonly used accessories are located in the looper cover, neatly arranged and ready to be used. The additional accessory box holds the seam guide, spool caps and tools. A range of optional feet for your creative overlocking is available.