Janome Artistic Edge 15X - Digital Cutter
Product information

Artistic Edge 15X | Digital Cutter
---
RRP $1299
The ultimate addition to a crafter's workspace! The Edge digital Cutter 15 opens up a new world of custom cutwork designs for paper crafting, quilting and embellishing. Let LED lighting and a placement laser make every cut more precise than you could have imagined. The Edge 15 connects wirelessly to your PC. The Edge 15 comes with adjustable blade holder, 3 cutting blades, pen holder and pens, 15" x 15" low tack cutting mat (for thinner and more delicate materials like paper or fine fabric), 15" x 15" high tack cutting mat (for thicker materials like template material or foam core), and the Artistic SimpleCut software (PC Only and not Mac Compatible) containing 3,500 designs.
---
Features:
15" of cutting space
Wireless Connection to your computer
Includes Artistic SimpleCut Software (with 3,500 built-in designs) (PC Only and not Mac Compatible)
Cuts a variety of materials from paper to vinyl to fabric and more
"Print and Cut" feature so you can cut exact shapes from a print image
Precision laser placement guide
Smooth, quiet operation
The World of Crafting is Unlimited – so why let a Digital Cutter limit you!

The Artistic Edge offers you an endless amount of options for every kind of crafter! The included Artistic SimpleCut software can do much more than just basic editing. Use one of 3,500 included designs, import artwork that you have already made, or create your own! Scrapbookers will love the ability to create custom shapes; quilters will love creating one-step appliqué and decorators will love the projects that they can create for the home.
| | | |
| --- | --- | --- |
| Appliqué | Vinyl Designs | Paper Crafting |
Why Would a Quilter want a Digital Cutter?
Using a digital cutter can make your quilts come alive in ways you've only hoped for, in a fraction of the time you would have thought! Create custom shapes, replicate fabric patterns in appliqué or simply cut full sheets of fabric for tiny piecing without having to use a rotary cutter. Less time cutting out fabric leaves you more time for quilting!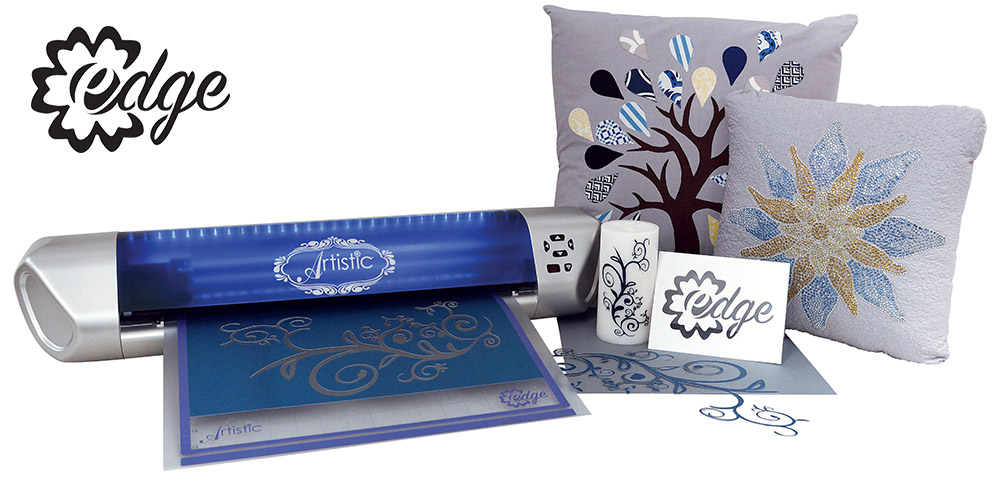 The Edge Cutter can take your quilt to the next level!
With the Artistic Edge, you have the ability to create appliqué designs with tiny details that you never would have been able to achieve with a rotary cutter alone. The Edge can precisely cut out these objects on various media forms, giving you a unique touch to your designs
Features & Benefits

The Artistic SimpleCut software that comes with your Edge Digital Cutter was designed from the Artistic Suite Embroidery and Cutwork software. With the Edge you are working with software that understands the quilter's need for different appliqué stitches (600 in total) and fabric styles. The Artistic SimpleCut software was designed for people who sew. The best part is that SimpleCut can export stitch files to work with any embroidery machine. Just save the file to a USB or send the stitch files wirelessly with a Janome Memory Craft 15000.

SimpleCut can auto trace designs, autoborder imported images, convert existing embroidery designs to appliqué and create custom rhinestone fills for your next crystal project.
Artistic SimpleCut Software

Includes 3,500 embroidery and appliqué designs.

Create One-Step Appliqué

Includes all of the tools you need to design your own custom artwork.

Use the Print-and-Cut feature to cut out precise shapes from printed fabric and paper.

Heavy Duty Industrial Design

3 industrial strength cutting blades (Fabric, Paper, Template)

High-Quality Aluminium body

Long lasting LED lights

Commercial grade steel components

Serious Power

Maximum Cutting speed – 600 mm/sec

Maximum Cutting Pressure – 750g

Laser alignment

Fine tuning blade holder for precise adjustments
Basic List of Supported File Formats:

Adobe Illustrator (*.ai)
Corel Graphic (*.CMX)
Encapsulated Postscript (*.eps)
Enhanced windows metafile (*.emf)
Scalable vector graphics (*.SVG)
AutoCAD (*.DXF)
Windows Metafile (*.wmf)
HP GL file (*.PLT)
Brother Scan-n-Cut (*.FCM)

What you get:

Artistic Edge Digital Cutter
12" x 12" Low Tack Cutting Mat (15" x 15" for the Edge15)
12" x 12" High Tack Cutting Mat (15" x 15" for the Edge15)
Fine Tuning Blade Holder
2 hexagon wrenches
Aristic SimpleCut Software
USB cord
Instruction Manual
One Standard Cutting Blade
One Fabric Cutting Blade
One Thick Material Cutting Blade
One Pen Holder
2 Pens (Black and Blue Ink)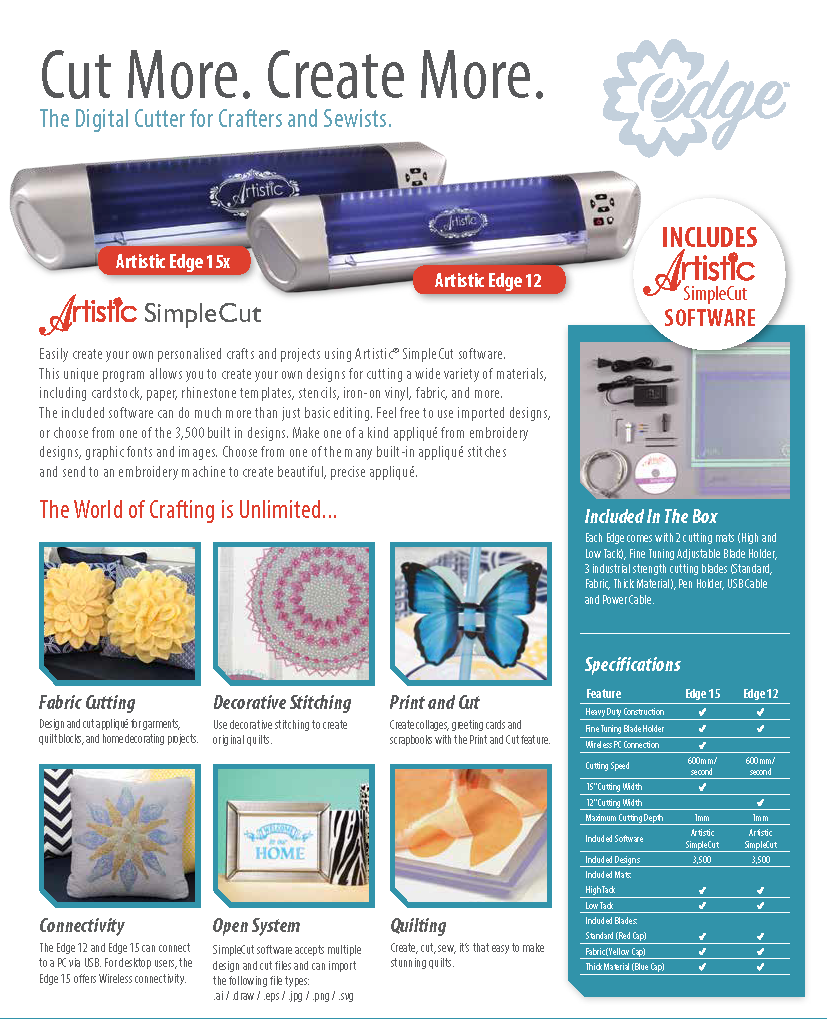 Click on the link below to learn more.
Note: Video is for reference only.
---
Hobbysew Guarantee and Manufacturer's Warranty: