Janome Embroidery Machine - Memory Craft 9900 (9mm HS)
Product information
+ Bonuses Worth Over $700!
Janome's Special Bonus items!

1 x Discount Voucher for Janome Artistic Digitizer software - $300 for full version or $100 for Junior version. Discount off regular RRP

1 x 1835 Design CD PN 253407001 $399

1 X 4GB USB Key PN USBKEY $12

TOTAL BONUS VALUE $711+

*Offer valid from 1st Nov. 2018 to 24th December 2018 or while stocks last

Memory Craft 9900 (9mm HS) | Embroidery and Sewing Machine
RRP $3,499
All the best features are here for embroidery, garment sewing, home décor, fabric crafting, and more. All in a machine that's just the right size for any sewing space.
The Janome MC9900 is a serious embroidery machine, with the most stable embroidery unit Janome has ever produced. It's precise. In fact, the stitch quality is so precise, it's possible to embroider fine lace designs on certain types of organza without stabiliser! It's fast (1000 spm). And it's remarkably quiet.
If you're looking for value, the mc9900 has the kind of specifications found on machines costing twice as much and with three-times the learning curve. Here, everything is so easy to use, because the technology is designed to make it fun.
Janome is known the world over for its intuitive, use-it-right-out-of-the-box creativity. Even if you've never done machine embroidery before, you can be "expert-level" before you know it!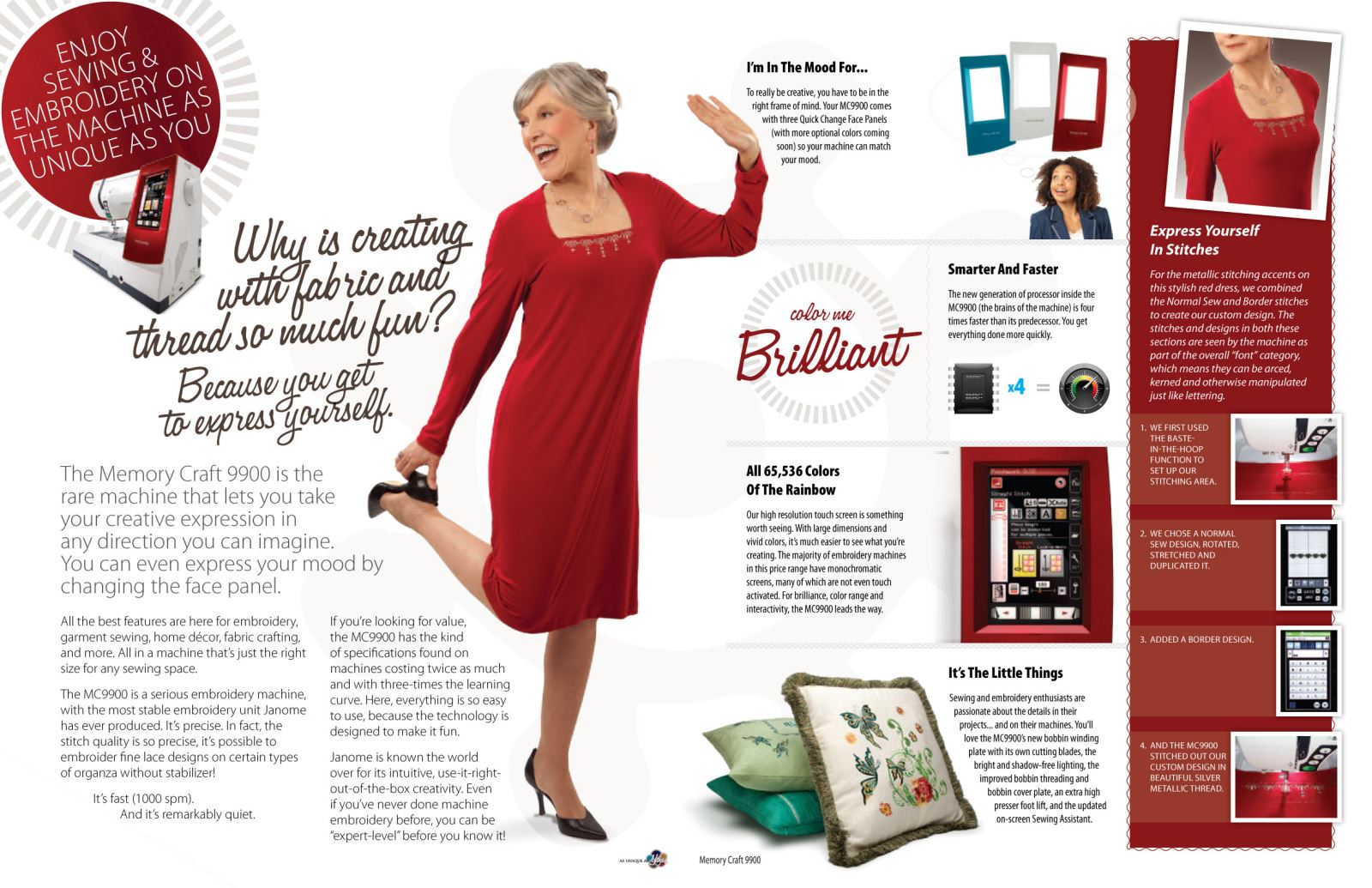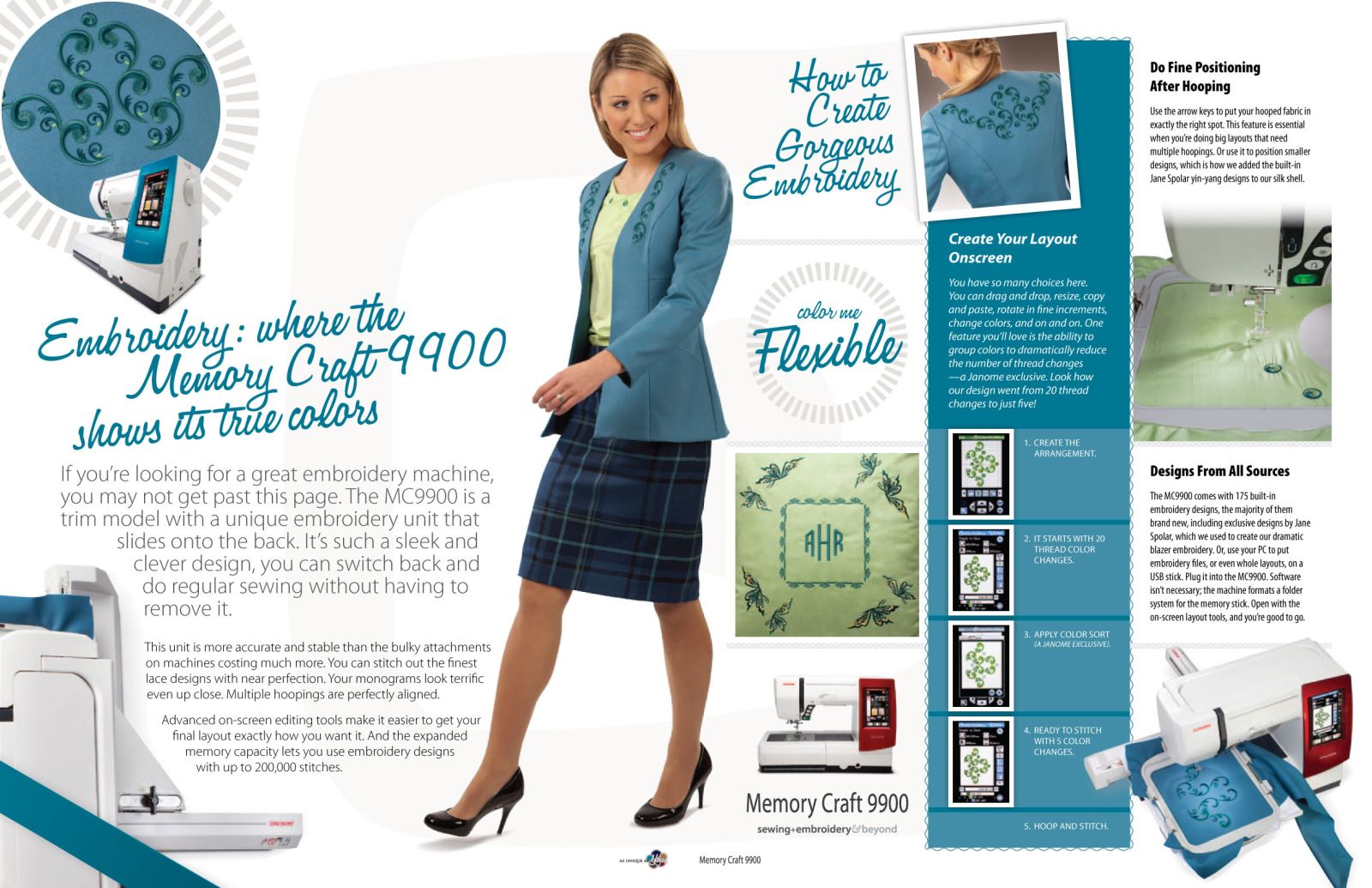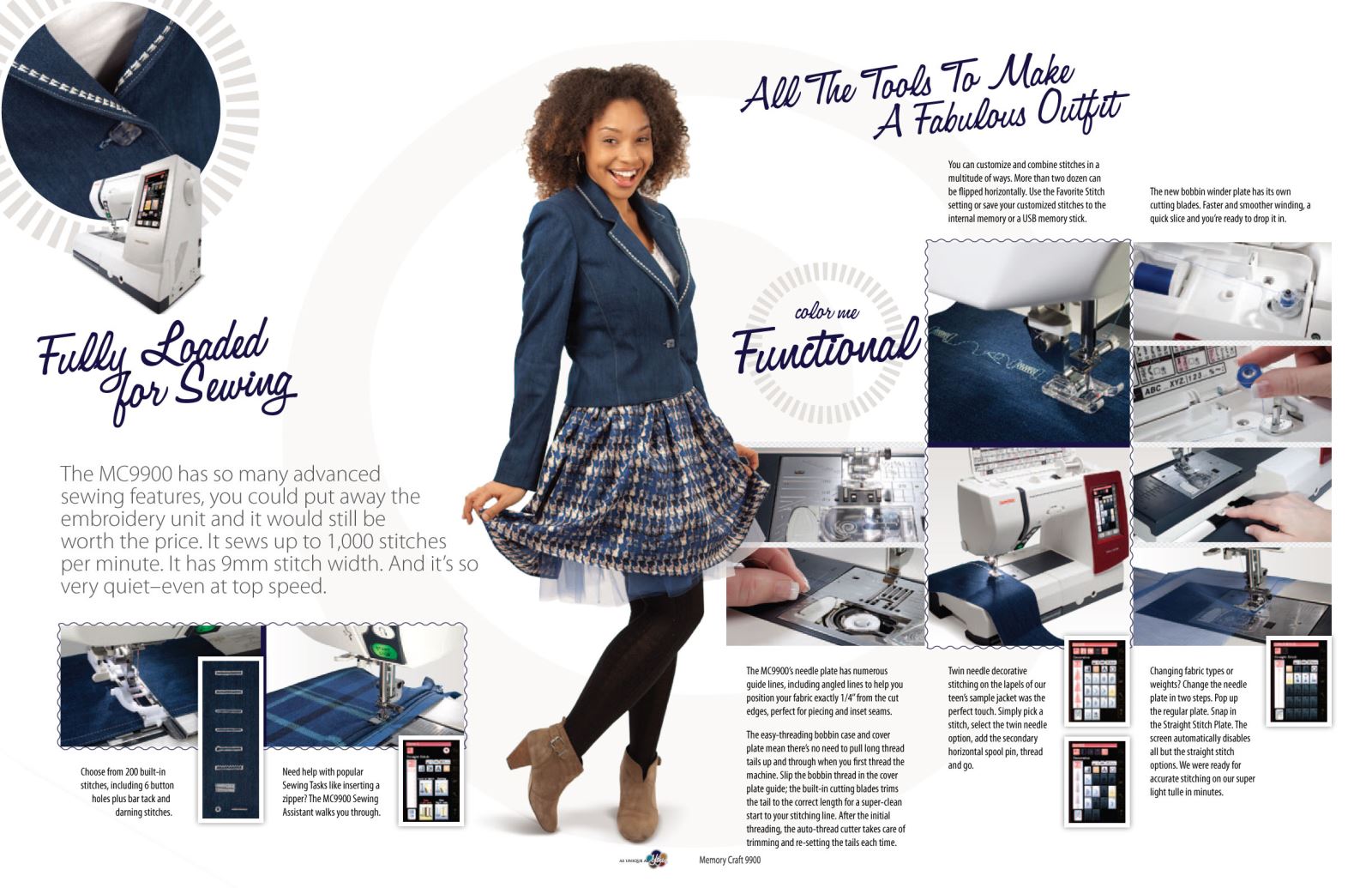 I'm In The Mood For...
To really be creative, you have to be in the
right frame of mind. Your MC9900 comes
with three Quick Change Face Panels
(with more optional colours coming
soon) so your machine can match
your mood.

Smarter And Faster
The new generation of processor inside the
MC9900 (the brains of the machine) is four
times faster than its predecessor. You get
everything done more quickly.

All 65,536 Colours
Of The Rainbow
Our high-resolution touch screen is something
worth seeing. With large dimensions and
vivid colours, it's much easier to see what you're
creating. The majority of embroidery machines
in this price range have monochromatic
screens, many of which are not even touch
activated. For brilliance, color range and
interactivity, the MC9900 leads the way.

It's The Little Things
Sewing and embroidery enthusiasts are
passionate about the details in their
projects... and on their machines. You'll
love the MC9900's new bobbin winding
plate with its own cutting blades, the
bright and shadow-free lighting, the
improved bobbin threading and
bobbin cover plate, an extra high
presser foot lift, and the updated
on-screen Sewing Assistant.
The Most Stable Embroidery Unit We've Ever Made
The Memory Craft 9900 has a sleek, detachable embroidery unit that slides onto the back of the machine--the same configuration as on our top-of-the-line Horizon Memory Craft 12000. The X axis carriage (for side-to-side movement) has a sturdier design for greater strength and improved stability. While the Y axis carriage has a Double Linear Motion Guide, which also improves stability and allows more precise movement.
And though the embroidery unit is very easy to attach and detach, you can leave it on when doing regular sewing. In fact, you might prefer the extra support it gives your fabric at the back. Most competing machines require you to remove their embroidery unit for regular sewing.
Hoop BHoop AThe MC9900 comes standard with two embroidery popular hoop sizes 6.7" x 7.9" (170mm x 200mm) and 5.5" x 5.5" (170mm x 170mm) with magnetic clips. It is also compatible with the optional Free Arm Embroidery Hoop FA10a 1.6" x 4" (40mm x 100mm).
---
Features:
LCD touch screen with the stylus.
Free arm
210mm workspace
Embroidery and Sewing Machine
1000spm Sewing speed
800spm Embroidery speed
Easy set bobbin
4 fonts
175 Built-in Embroidery Designs
Knee lift
LED light
Needle threader
Thread cutter
Built-in memory
9mm stitch width
5mm stitch length
3 interchangeable front panels Red/White/Blue
200 Built-in Stitches Inc. 6 one-step buttonholes
2 Standard Hoops (200x200mm, 140x140mm)
Click on the link below for more information.
(Items may be different to what is shown in the video)
Note: Images used are for illustrative purposes only.
With high-end machines, please allow up to 10 working days for delivery.
---
Click on the brochure below for more information.
---
HOBBYSEW GUARANTEE AND MANUFACTURER'S WARRANTY: